10 Awesome Chrome Extensions You Should Install
I'm a big fan of Google Chrome and find it has as many extensions as Firefox add-ons. I also prefer to use Chrome instead of IE, Edge or Firefox because I use Gmail, Google Photos, Google Drive, and a whole host of other Google products.
There are literally hundreds of great extensions that you can install to improve Chrome in a variety of ways. There are special extensions for developers, music lovers, gamers, bloggers, and many other categories. However, there are some extensions that are more versatile and can help almost anyone with their daily tasks.
Table of contents
In this article, I'll cover a few extensions that I think everyone should install. Even if you haven't heard of any of them, try them before you stop using them. Having a lot of extensions installed can also slow down your browsing experience, so choose what works best for you, but try each extension. You can easily remove or disable Chrome Extensions.
It's also worth noting that some of the extensions I've listed are based on my heavy reliance on Google, so unless you're part of the Google ecosystem, just ignore those extensions.
Speed ​​Dial 2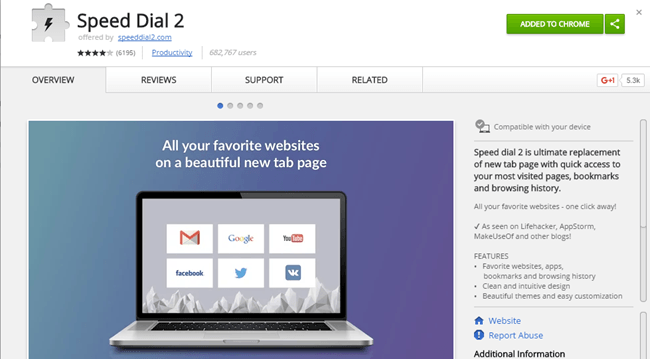 One of the first thing I like to customize in Chrome is the new tab screen. It's basically just a list of recently visited websites, but there's nothing else to it. There are lots of fancy extensions out there that also replace the new window with control panels, wall­papers, task lists, etc., but I found the simple speed dial 2 to be perfect for my needs.
When I'm browsing the Internet, I just need quick access to my favorite sites. Speed ​​Dial 2 does this by letting you organize all of your pages and apps into groups.You can also customize the theme and customize layout. Finally, you can create an account and sync everything on all your devices.
Download Movie Box for iPhone / iPad / Android smartphones
LastPass
If you're not using a password manager yet, try LastPass. If you use something like KeePass, you don't have to worry about this extension. If you use another password manager like 1Pass, be sure to install its extension. Password managers are essential these days as the number of hacked companies is on the rise and the amount of personal information leaked is even greater.
The password manager allows you to create complex passwords that are different for each site. You obviously can't remember them, so you need to store them somewhere. The obvious fear most people have is that one of these companies will get hacked and all your passwords will be leaked. It's possible and that's why many people use local databases like KeePass. That being said, I've been using LastPass for years and they had one incident that didn't result in a password crack.
HTTPS everywhere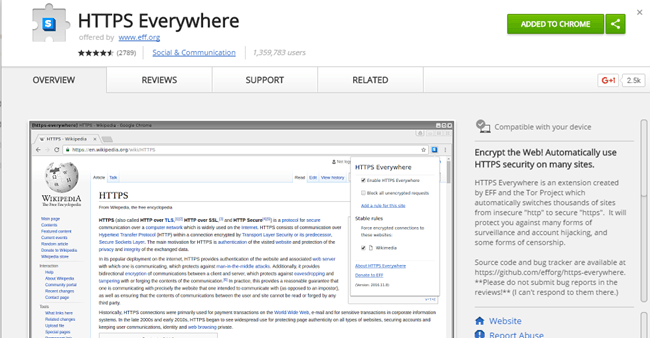 HTTPS Everywhere is one extension that you should just install, and then forget about. It basically tries to use HTTPS security on the site if it's not already secure. This is from the people at EFF, a great organization that exists to protect consumers in the digital world.
The only downside to this extension that I have noticed is that it uses slightly more memory than all the other extensions. It doesn't really matter to me since my computer has 16GB of RAM, but if you have less RAM it might be something to consider.
15 Best rolling laptop backpack for college Students
Disable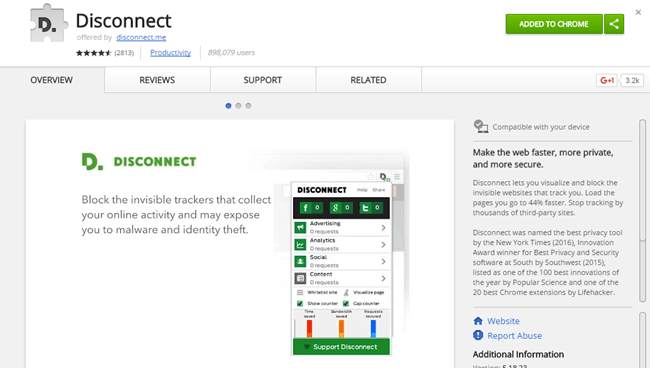 Disable is another extension that you can install and just leave. It's a great privacy tool to make sure every website you visit doesn't track everything you do online. In addition, since it blocks tracking, it also saves data and speeds up website loading times. Many website requests are only for tracking cookies, tracking scripts, etc.
Adblock Plus
Even though my site relies on ads for its revenue, I still recommend using an ad blocker because there are so many websites out there with tons of advertisements. Not only that, but many of these ads have malicious software, which means you can be infected with malware just by visiting the site! This is ridiculous.
My site only displays ads from high-quality networks and tries to keep the number of adverts to a minimum, which means I can earn revenue. The only downside to AdBlock Plus is that some big websites like Forbes.com detect AdBlock Plus and won't let you access their content unless you whitelist them first.
Honey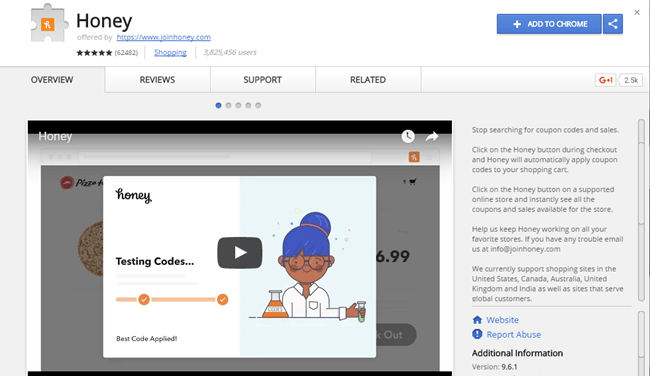 I was a bit skeptical about this extension at first, but the crazy amount of good reviews finally made me give it a try. In the end, I have to say that it's pretty cool. If you are online, then you have made some purchases online. If you're like me, you probably buy most things online other than groceries.
Honey will automatically look for coupons and apply them at check out. I used to go to RetailMeNot and many other sites that tried to find a coupon that I could use before I paid, but now I only use Honey.
and it finds and tries all kinds of codes. There are no ads or anything intrusive at the moment and hopefully this won't change in the future. He recently saved me $255 on a Dell XPS laptop!
Grammar
Besides browsing the web, watching videos, and shopping online, another important activity in my browser is typing. Typing emails, filling out forms, typing social media posts, writing articles for my websites, etc. Basically, it's a lot of printing presses and there's bound to be a lot of typos.
Grammar is a nifty extension that will check your spelling and grammar as you type into a whole bunch of different web applications.I used to go to RetailMeNot and many other sites that tried to find a coupon that I could use before I paid, but now I only use Honey.
uBlock Origin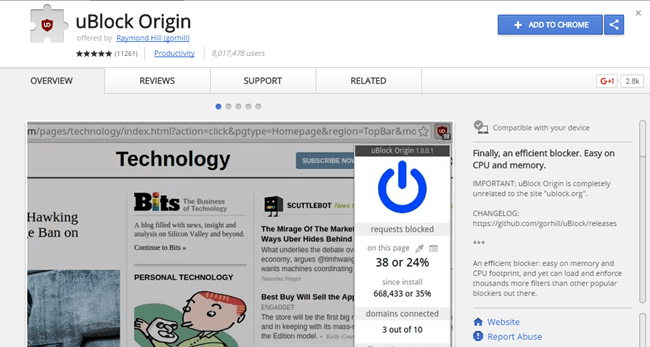 Most web browsers, such as Chrome, already check spelling, but Grammarly will give you suggestions like words for sentence structure, exact words, and more.
They work by going through huge blacklists of bad domains and URLs.
uBlock Origin is an extension that does just that but is efficient and saves memory for your personal computer. You install the app, and then you choose which lists you want to protect you from. It sometimes blocks things you shouldn't do, but it's very easy to turn it off for the current website you're on. Highly recommended in terms of safety.
Turn off the lights
As I mentioned earlier I watch a lot of video content when I'm working on the computer. Apart from YouTube, I also browse other video sites and turn off the lights makes the experience more enjoyable. It basically dims everything or replaces everything but the video with a pretty background. It's not really an extension you need to install, but if you watch a ton of videos on your computer, it's definitely useful.
For YouTube in particular, you can set it to automatically play only the high-resolution version of the video. This is good if you have a 2K or 4K monitor and need to constantly change these settings for every video.
Fireshot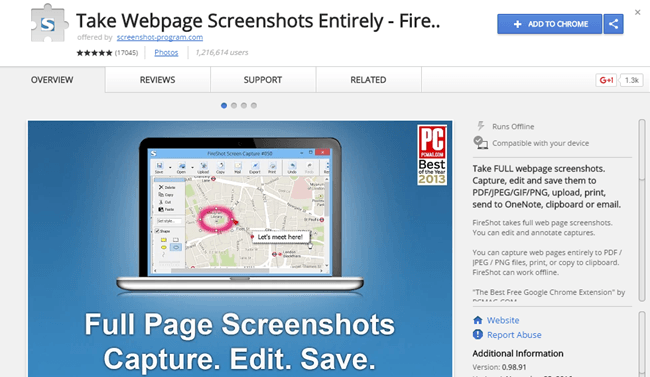 Finally, sometimes you need to take screenshots of what's in your browser, and this plugin is much better than trying to use the Windows Snipping tool or something.
You can use FireShot to capture full web pages and save them in image format or PDF format. You can then write all the tabs into one PDF file and send it to OneNote.
You can also edit screenshots and add notes to them.
So, these are ten extensions that just about anyone can use on a daily basis while using Chrome. I tried to make them as generic as possible so that most of them do their work in the background, even if you don't notice it. Enjoy!