The best flash drives carry a lot of data and transfer it quickly and easily to and from your computer without worrying about a wireless connection. When it comes to wireless connectivity, it can be unreliable. The device that plugs into your USB port is almost as reliable as it gets. Bottom line, if you need to keep a large number of files handy or need to move them quickly and safely between computers, a flash drive is the best way to do it.
Flash drives come in size, cost, and portability. If you frequently move between work and home, or if you often install applications on multiple computers, or even if you have a lot of files to distribute to multiple people, a bag full of flash drives is an economical way to do it. Flash drives are faster than wireless and more portable than even the best external hard drives.
Some things to look for in a flash drive include size, types of ports they connect to, storage capacity, read/write speed, and price. Flash drive prices have come down a lot, so no matter what you choose, you probably won't pay too much. But our online store Sotos looked through a lot of flash drives and compiled a rating of the best of them.
Top 10 rating of the best flash drives of 2022
1. SanDisk Extreme PRO 128GB is the best flash drive of 2022
Capacity : 128 or 256 GB | Interface : USB-A (3.1) | Read speed : 420MB/s | Write speed : 380MB/s
SanDisk PRO is the best choice due to its capacity and read/write speed. At 420/380Mbps read/write speeds, you get about three times the speed that USB 3.0 has to offer. We found that the read speed would drop about half way when transferring a file. It was frustrating and inconsistent, so it was difficult to track it down.
The flash drive itself is made in an aluminum case that looks premium. There is one LED light and a key loop for easy carrying. This flash drive is like a tool for professionals, thanks to 128-bit file encryption and a USB 3.1 connection. It's backwards compatible so the flash drive works with older ports too.
The flash drive comes preinstalled with SanDisk RescuePRO software that can help recover lost files. In addition, SanDisk provides a full lifetime warranty on this flash drive should any problems occur. Because of everything, this flash drive is among the most expensive, but the additional features that you get here are worth it.pros
✔Durable design.
✔Available up to 256 GB.
✔Built-in file encryption.
Minuses
✘Read speed is inconsistent.
✘Expensive.
2. SanDisk Ultra 128GB is the best flash drive for multiple devices in 2022
Capacity : up to 256 GB | Interface : USB-A and USB-C (3.1) | Read speed : 150MB/s | Write speed : 150MB/s
People not only sit at computers at work, but also carry PDAs with them. The SanDisk Ultra Dual Drive is named correctly because it has both USB-A and USB-C connectors suitable for computers, smartphones, etc. If you have computers with different types of USB ports, or if you are moving files between your computer and phone Android, this is a good flash drive choice. The flash drive has a relatively slow read/write speed of only 150MB/s. We like that both data connectors retract into the drive's chassis, reducing the risk of damage. You can put it in your backpack or pocket without worrying about it. The data connector is often the most vulnerable part of a flash drive, so pulling it back into the case is very reassuring. We mostly like the versatility that the dual connectors provide.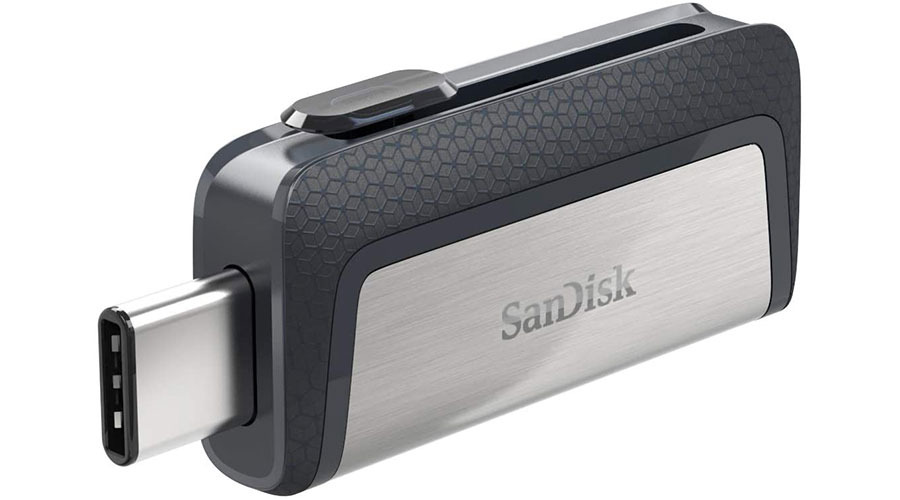 pros
✔Versatility for USB Type-A and UYSB-C.
✔Solid price.
Minuses
3. SanDisk iXpand 128GB is the best flash drive for iPhone and iPad in 2022
Capacity : up to 256 GB | Interface : USB-A (3.0) and Lightning | Read speed : 150MB/s | Write speed : 150MB/s
While the rest of the world is moving to USB Type-C, Apple is still clinging to its Lightning connectors. We're not judging, but for those who want to move files between their computer and iPhone, a different connector is required. SanDisk also offers a 128GB iXpand flash drive. It's a bit of an odd shape: the lightning connector folds over at the end, forming a loop.
Assuming you have a computer with a USB drive (not a Mac), you can use this device to move files between your computer and your iPhone or iPad. The flash drive also comes with SanDisk iXpand software, which makes it quick and easy to back up your phone by simply plugging in the device. If you prefer to transfer individual files instead of a full backup, you can do that as well. If you have an iPhone and need to back it up periodically, this is a great device to do so.pros
✔Lightning and USB-A.
✔The software automates backups.
Minuses
✘Strange design.
✘Potential durability issues.
4. Samsung FIT 32GB is the best USB 3.1 flash drive of 2022
Capacity : up to 256 GB | Interface : USB-A (3.1) | Read speed : 200MB/s | Write speed : 60MB/s
The Samsung Fit 32GB Flash Drive is proof that a flash drive doesn't have to be awkwardly sticking out the side of your computer. Fit is slightly larger than the USB-A case and protrudes from the slot by only millimeters. One tiny piece can give you up to 32GB of extra storage. Of course, this tiny size also comes with a price as it is so small that it can be easily lost.
You still get good read and write speeds of 200MB/s and 60MB/s respectively. We recommend this flash drive for ultrabooks because the tiny size of a USB flash drive matches the tiny size of an ultrabook.pros
✔Small.
✔High transfer speed.
✔Excellent price.
Minuses
5. Silicon Power C80 64GB is the best flash drive for Macbook 2022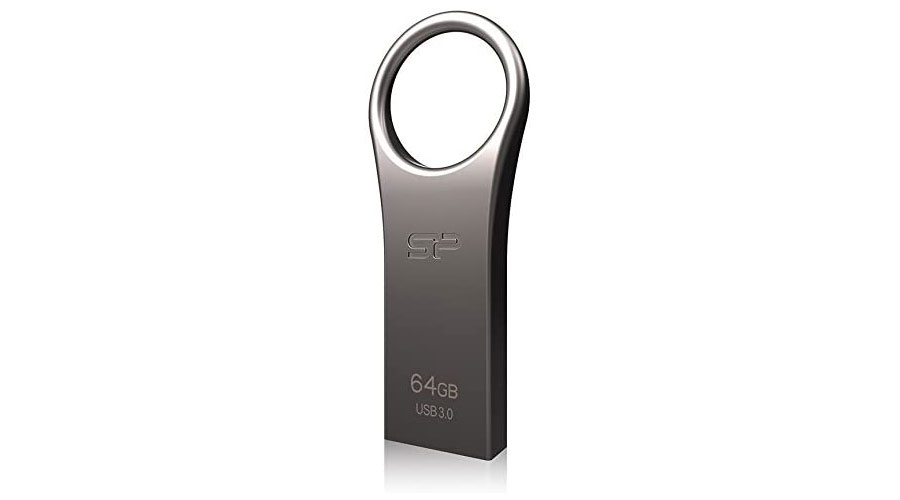 Capacity : up to 64 GB | Interface : USB-A and USB-C (3.2) | Reading speed : Not listed | Write speed : Not listed
The zinc alloy construction looks great next to your Macbook, making it the perfect companion. This flash drive has a USB 3.2 interface, but Silicon Power is shy about its read and write speed requirements, which is a little disappointing. The fact that the memory goes up to 64 GB is also disappointing.
But the design of the ring looks great. The USB-C port is protected by a zinc alloy casing, and while the other end does stick out, it's also made from zinc alloy, which is quite durable. The device also includes free file management software if you wish to use it. Otherwise, you'll end up with a nice stylish flash drive with a nice design that will look great along with your Mac.pros
✔Nice ring design.
✔Excellent price.
✔USB sockets are protected.
Minuses
✘Maximum 64 GB.
✘Unlisted read/write speeds.
6. Kingston Data Traveler Vault is the best flash drive in terms of security in 2022
Capacity : up to 64 GB | Interface : USB-A (3.0) | Read speed : 165MB/s | Write speed : 22MB/s
Flash drive security is a whole industry that has come into existence, and it makes perfect sense. Data on a flash drive is easily accessible if you have a physical drive. Some flash drives use fingerprint readers, while others have a built-in keyboard. That's good, but it all comes down to encryption, and the Kingston Data Traveler Vault comes with 256-bit AES encryption and built-in antivirus.
This "business-grade" security can be further enhanced with the managed version of SafeConsole, which also includes additional management tools. Flash drives are TAA compliant, which means they follow government protocols. They are available in sizes up to 64 GB, but they are very expensive and security results in lower transfer speeds, so this is an important thing to keep in mind.pros
✔Built-in encryption.
✔Antivirus protection.
✔Complies with TAA.
Minuses
✘Transfer speed is low.
✘Expensive.
7. Corsair Flash Survivor Stealth 64GB is the best most durable USB 3.0 flash drive of 2022
Capacity : up to 256 GB | Interface : USB-A (3.0) | Read speed : 85MB/s | Write speed : 85MB/s
Wouldn't it be embarrassing to find yourself in a situation where you need a flash drive to survive 200 meters underwater and you just don't have one? Admittedly, this is a niche flash drive, but there is definitely a certain group of people who need a durable USB drive, and the Corsair Flash Survivor Stealth flash drive is designed for those people. Campers, builders, first responders can all benefit from a durable flash drive.
The flash drive is made of aluminum and has an ethylene propylene diene monomer rubber (EPDM) seal. A screw cap case can make plugging in a flash drive difficult because the plug is a bit taller than the average flash drive, so that's something to consider. Aside from that slight limitation and the fact that the price is slightly above average due to the build, this is a great option if you need a flash drive that can handle tough conditions.pros
Minuses
8. PNY Turbo 256GB is the best capacitive flash drive of 2022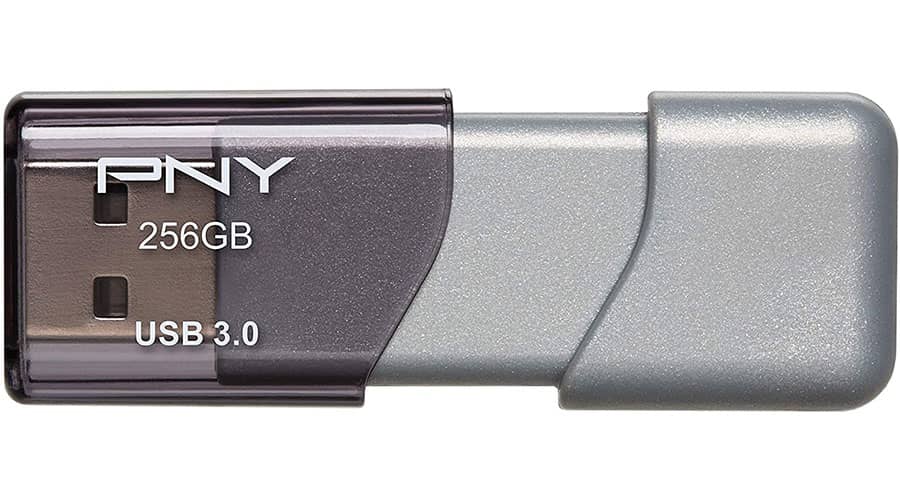 Capacity : up to 1TB | Interface : USB-A (3.0) | Read speed : 140MB/s | Write speed : 80MB/s
PNY is one of the leaders in flash storage because they usually have more capacity at a lower cost. It's hard to compete with that, but a PNY flash drive can hold up to 1TB and still fit on your keychain. You might not need a full terabyte of storage, but 256GB in your pocket at a very reasonable price is a good reason to recommend it.
In terms of read and write speeds, these are respectively 140/80, which is not very fast, but the USB 3.0 architecture ensures backward compatibility regardless of the age of the computer. To be honest, we would like to see a better build for this much data. One wrong move and you'll lose 256GB of data, but overall, if you take care of it, you can get a lot of value out of this flash drive.pros
✔Up to 1 TB.
✔Transmission speed.
Minuses
✘Expensive.
✘Not premium.
9. DataTraveler SE9 G2 is the best budget flash drive of 2022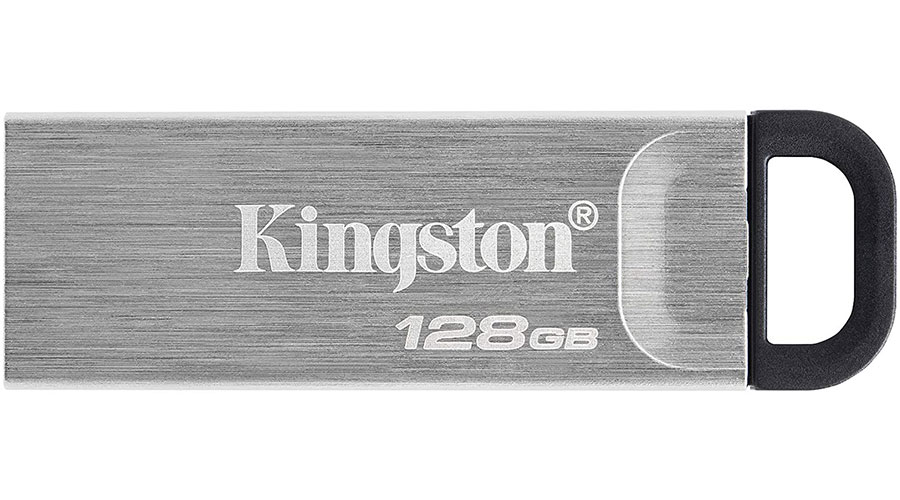 Capacity : up to 256 GB | Interface : USB-A (3.2) | Read speed : 200MB/s | Write speed : 60MB/s
If you need a lot of storage space on a budget, the Kingston DataTraveller SE9 is a great choice. Regardless of the size you choose, you get great value for money with this series of flash drives, up to 256GB. Read and write speeds are decent at 200 and 60 Mbps respectively. The drive has a metal case, beautiful and durable. We wish there was a cover on the end to protect the USB connector, which is usually the most vulnerable part, but we can understand its absence. Anyway, if you put 256GB on something, you want it to be as safe as possible. But there's a five-year warranty that helps. But overall, when it comes to value for money, the Kingston DataTraveler is a great option for a budget flash drive.pros
Minuses
10. SanDisk iXpand Luxe is the best flash drive for phones in 2022
Capacity : up to 256 GB | Interface : USB-C and Lightning | Read speed : 90MB/s | Write speed : 60MB/s
The iXpand Luxe flash drive features a unique layout and configuration, and features Lightning and USB-C connectors on both ends. This is a good option for families with mixed devices, such as those with Android and iOS devices. It's also a good option for people who use iPhones and iPad Pros with a USB connection. Basically, if you use a variety of mobile devices, this flash drive is for you.
We are having issues with the iXpand app and its iCloud Photo Library. He writes, "In our case, due to years of saving iPhone photos to iCloud, iXpand Luxe saw about 55,000+ photos ready to be backed up, although not all of them are stored locally on the device." Other than that, it's a great USB flash drive that can be used on iOS or Android, or even PCs with USB-C ports. This makes the flash drive just as versatile.pros
✔Works with iOS and Android.
✔Well built.
Minuses
✘Problems with iCloud photos.
✘Expensive.
Conclusion
In general, we really liked the flash drive – SanDisk Extreme Pro. It has the best combination of stylish looks, storage space and affordability that we like to see in a USB drive. You also get excellent transfer speeds and a clean, professional look. Otherwise, we really like the Kingston DataTraveler SE9 for its low price per gigabyte. The rugged construction of Kingston should provide years of safety.